Testimonials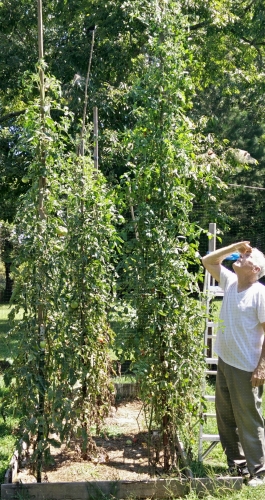 The Reed Family - Eads, TN
Thank you Hall's Feed and Seed. In over 40 years of gardening, 2015 has produced the best crop of tomatoes we've ever had. The yield has produced beyond what our family could eat and give away. My wife has worked overtime to can/freeze more than ever before. There'll be lots of vegetable soup this Winter! My hat is off to Bonnie Plants for producing such healthy and productive specimens and making them available to the public. You folks at Hall's are equally responsible for this year's success by keeping the stock watered, healthy and protected from the elements until they're purchased and planted. Additionally, I credit the tomato plant food you carry and the magic of Dipel preventing damage from the dreaded tomato worm without poisoning the pollinators. How cool is that? The 12' 4" plant in the picture is living proof of our experience this year. Thank you, Hall's! The Reed Family Eads, TN PS: The tomato plant in the picture is 12' 4" tall
Kelly Mort
I have been going to halls feed since I was a kid raising puppies, horses and whatever I had. Now as a adult they help me even more with their knowledge I don't know what I would do without them.
Debbie Cockrum Johnson
PJ and I went to pick up a few things today at Halls Feed store on Hwy 72 in Collierville. Besides him being 'closed' already, he let us browse and shop. Then when we went to pay, his credit card machine was down. Of course we didn't have any cash on us, we never do. Unbelievably, he told us to take our purchase and come back another day to pay him! I haven't seen anything like this since I was a child at my Grandmothers in the country where everyone knows everyone.
So, I want to give them a BIG shoutout for trusting us, total strangers, to be honest enough to come back and pay him! Of course we immediately zipped across the street to the ATM and withdrew what we owed and raced back to pay. I think he was surprised.
Please shop there, we won't go anywhere else ever again just because of this!
Rose Thompson
Great prices. One on one service is great! Try finding some expert help at Tractor Supply, and good luck with that. Vegetables were healthy and disease free. Great store! Love it!
Andrea Pate Hand
My family and I visited yesterday. We are going to start raising chickens and got the best help yesterday. We learned so much, and I feel like we have a great resource as we begin this new adventure. Great customer service!
Danya Welch
Love Jimmy & Beverly, sweet, sincere & so helpful with all your farm or animal needs!
Linda Mathis
I love Halls Feed and seed, great people. I bought my ducks there 3 years ago and they are doing great.
Jennifer Bennett
Called them at the last minute on Saturday and they had what I needed. I drove up there and they let me see what kind of feed it was before I purchased. Will definitely be buying from then from now on.
Karen Butler
Jimmy, David and Mrs. Beverly have been mentors for me. The Easter Bunny brought baby chicks to my children four Easters ago. I was referred to Hall's for guidance on my new endeavor, and they have never steered me wrong. The awesome crew at Hall's is knowledgeable and friendly! They have truly taught me everything about raising chicks and ducks, and the experience has been truly amazing. I'm not quite sure who has enjoyed it more, my children or me? ( my hubby pretends he isn't interested haha! )
To the crew:
Thanks for always being willing to answer my questions, and provide me with tons of helpful information!
Kurt Wagner
I love Halls Feed and Seed! You won't find better customer service anywhere. If you've never been here, you're missing out!
We are constantly adding new specials to our site. Be sure to check back often!